The High Line is one of the most unique parks ever created in New York City or, for that matter, in any city anywhere.
It has a little waterway for wading.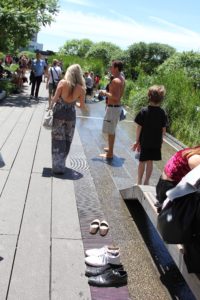 It has flowers…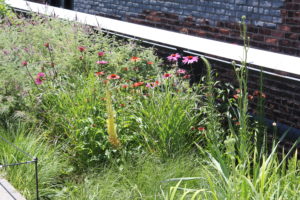 And trees…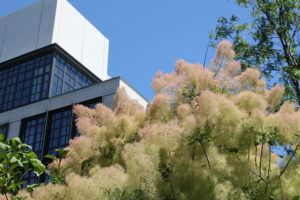 And some of the coolest views you will find in New York.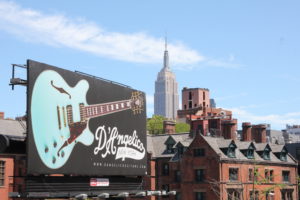 But the history of the High Line is pretty amazing also.
In the early part of the Twentieth Century, Tenth Avenue on the West Side of New York City, was called Railroad Avenue, or, sometimes, the Avenue of Death. Why? Because train tracks ran down the center of the street and there were two very busy railroad yards in the vicinity.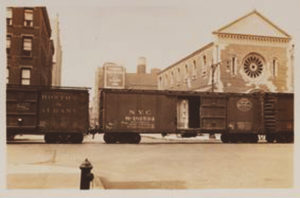 New York City actually passed a law requiring that each train had to have two people on horseback riding in front of it to warn pedestrians.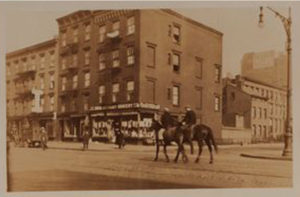 In the 1930s, they decided to elevate the track above the streets.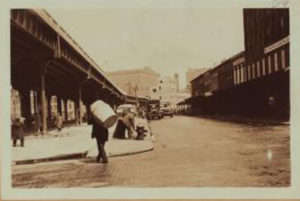 If you would like to learn more about the history of the High Line and see many more photographs of what the area looked like before the High Line  was built, come with us on a tour,
Just email Brendan and we will be happy to set something up at your convenience. brendan@nyctoursthenandnow.us
Group rates are available!
We can also provide private tours of Central Park and elsewhere in New York City to meet your individual needs. Contact us by using the form below for rates and availability. We will respond promptly. you have any questions, please contact us by using the form below. We will respond promptly.